In my earlier blog post, I wrote about data and stats and what are the right basis to use them and how we can apply them in a better and effective way. In the same blogpost to have written about one of the biggest uses of stats-to find players who match your statistical profile and then scout them with video and game, in this blog post we are going to see how we can narrow players down to the statistical profile you need.
GOALKEEPER
Goalkeepers are difficult to find statistically because a lot of the statistics depend upon how the keeper's team defends and how far the shots are conceded. It depends upon you and upon your team and what you want your keeper to do.
if you are Sheffield United, you don't need a keeper who is brilliant in possession, you want a solid shot-stopper who is kind of old fashioned commands his defence and is kind of a leader, while we can't find subjective qualities like leadership but we can use a mixture of shots conceded, save percentage, psx g+/- and the most obvious stat is goals conceded. More goalkeepers like the obviously good like Dean Henderson- Aron Ramesdale and Alex Meret who has shared his place with David Ospina.
If you are a ball-dominant team like man city or Chelsea who need a keeper who can play through a press and contribute in build-up play, Ederson, Allison and Ter stegan are perfect examples of it. If you want a keeper of that sort you will look at passes completed with accuracy, the previous stats like psx g+/-, saves per goal. These sorts of goalkeeper are best found in the Netherlands, Germany and Spain where teams like possession, press and technique. Goalkeepers like Unai Simon, Alexander Nübel and Andre Onana.
If someone wants to have a look at a deep statistical profile in goalkeepers, you should have a look at the paper, Derrick Yam-who published a paper on it.
FULL BACKS
Full Backs are one of the most important players on the pitch according to a lot of managers, Full backs need to Athletic, fast, intelligent and good defensively.
Full backs can be of different types like- the defensive fullback like Aaron Wan Bissaka, the inverted full-back like how Kyle Walker has been playing in man city for the last 3 years, the overlapping fullback like Trent and Robertson and the fullback who does everything – Dani Alaves.
It's upon you what sort of full-back you want if you an attacking full-back, you can have a look at deep progressions completed, dribbles completed,  XG chain, bad touches attempted, crosses completed if their team crosses a lot like Real Madrid and as a defender, you need to defend so padj tackles and interceptions. If you want full-backs like these you can go for someone in stature of Alphonso Davies, Bakayo Saka who is out of contract next summer or Theo Hernandez at Milan.
If someone wants a fullback whose speciality is defence, you can have a look at Padg tackles and interceptions, along with aerial duels, sprint speed, the ratio of fouls committed to tackles and interception, dribbles past per game and offside won per game. Players in this category include Emerson from Real Betis and Marc Cucurella from Getafe.
If someone wants a balance full-back who can do both attacks and defend, who's fast and has a concentration unparalleled to anyone, while these players are very difficult to find, these can be found, you just need to look at most stats available and see the best people, I know this seems simple, but you often miss one or two weakness, there are players available who can do all in a bit, like Youcef Atal at Nice and Junior Firpo who Barca players don't like because he is not Jordi Alaba, Firpo is really good but has a problem with confidence and a good coach can solve that.
Centre Backs
Scouting for centre backs is one of the most difficult jobs in football because unlike forwards or defensive midfielders, stats don't always have a story about a centre back like Virgil Van Dijk has only 1.8 tackles and interceptions, you always don't need to make tackles of interceptions, you can just anticipate. What I personally do is that I look at the goalkeeper and the defensive structure and formation of the team, I notice how good is midfield and how good is the keeper if the keeper is over performing his xg. Generally, I have noticed there are 2 types of centre backs- the aggressor and the anticipator, generally, they are paired together like Ramos and Varane are good examples of it, Ramos used to be a fast and like a predator and Varane who was cool as ice, they formed a good partnership, these days you want a player who does good deep progressions, is great in the passing, good in aerial duels and does not take a lot of cards.
To find the aggressor, you have to find a centre back with 2.4 to 3 defensive actions, you don't want more than 1 foul per 90, sprint speed if available and not more than 0.5 dribbles past per 90, there are a lot of other obvious metrics you can look at some common metrics while scouting for centre backs you need to notice, the team playing style if you can.
To find the anticipator, you want a player who is making tackles and interceptions but not in a big amount, you also can look at possession adjusted numbers, aerial duels are also important. People should understand that these can be a lot dependent on the playing style of the team and you have to do video scouting to really understand the playing style.
Defensive Midfielder
 Well, I have previously written about the types of defensive midfielders, so I won't write elaborately about them, Defensive midfielder has been one of the most integral parts of any team, so while scouting for defensive mid you know what you want, what formation you want to play them in and what age profile you want them in, people often think that great Defensive midfielders do only defending but they do a lot of important tasks like linking defence with the attack and directing play.
What you want in your average defensive midfielder is game intelligence which can only be understood through video but you can also look at PADJ tackles and interceptions along with their success rate and fouls committed, you can also look at XG chain and key passes for better understanding of a player, dribbles completed is also an important metric with its success rate, sometimes in this position you have to understand that you either get a player who is special at one thing or a player who can do everything but nothing he is the best at. (This is the case for most times, not every time though)
Central Midfielder
Good Centre Midfielders are not really difficult to find these days, people just should know what they want because there are so many types of central midfielders like Serji Milinkovic Savic plays as a Mezza in Lazio. N'Golo Kante as a shuttler, Thiago does everything available brilliantly, Marouane Fellaini under Jose Mourinho was playing a new role, a role people were not comfortable were but was effective a lot of time.
What I personally believe is that every central midfielder should be good at passing and understanding the game, every central mid should have at least above 85% and have attempted 55 passes. Long balls are also an important feature. The players should also be in good dribbling (ball progression), having a lot of dribbles does not matter if you have an outstanding completion rate, like Arthur Melo dribbles only 1.8 times per game but he has a dribble succession rate of 90 per cent and you can also look at player getting fouled.
If you want your midfielder to be brilliant in defence you can use stats like Padj tackles and interceptions, along with fouls completed and where those fouls were completed, like Fernandhinio was so good at Man city because he used to break up attack very early above the field.
If you want to see the kind of shots the player is taking, you can look at xg and shot location which is very helpful.
Attacking Midfielders
The traditional number 10 has died, today we either look at a hybrid with 8 and 10 like Kevin De Bruyne or a winger turned attacking midfielders like Alex Iwobi or a player who can play at multiple positions like Dele Alli, what people should understand is that every type of attacking midfielders have to defend and have to press in a systematic way. Players like Mesut Ozil have struggled in the last few years.
The main stats you should look at are key passes which should be above or equal to 3, combined Xa and Xg of 0.5, you can also look at the shot location and shots per 90. You have to look at the type of attack the player's team is playing, like Marcus Thuram did not contribute a lot but was still promising because he was playing in a very bad team, who did not know to attack.
Dynamic players like Kai Hevertz and Julian Brandt have lit up Bundesliga, they look an adaptation of Mesut Ozil. who is playing in multiple positions, has an xg chain of 0.7 which is nice but he has an advantage because he plays in an ultra attacking team in Leverkusen.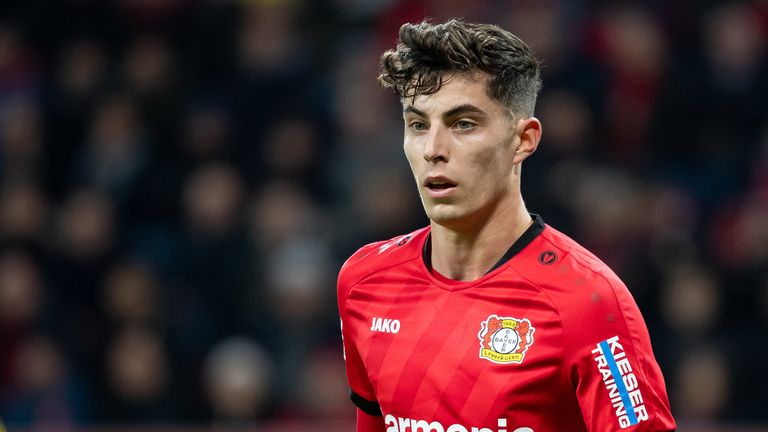 Wingers
Wingers are generally considered as the most magical player in the field, sometimes they can do game-changing and win their team 3 points, great wingers like Ronaldhinio and Neymar has made a lot of people go in love with the beautiful game.
Forwards are easier to find because more resources are available. There are a lot of types of wingers, generally, there is seen a need for wingers to dribble and progress the ball.
Wingers like attacking mid's how to press and defend. Fouling is also important because wingers can stop potentially above-average attacks. They should also have an above-average xg chain (0.5 and above), good shot quality, good intelligence and should understand the system.
There are special wingers all around the place like Moussa Diaby who has been very good, just went for 15 million last season, if you have a good scouting team, wingers might be the cheapest to find.
Strikers
Strikers are the game winners, they are ruthless and can do anything to win a game. There has been a rise in "Defensive striker", the poacher and the player who is involved in build-up play.
What you want in a defensive striker are good defensive numbers, pressures and fouls. Fouls are very integral in seeing defensive actions, you also then want wingers who score a lot so that you can compensate for the goals. Liverpool is a good example of this though it's a cliche now.
What you can expect from a Poacher are a good shot value and good shot position, along with an xg of 0.4 and a good xa value. What people should expect is that these players have really low touches in game-like 30 passes but each touch they have will have a lot more value like Jamie Vardy, who is the prem's highest goal scorer this season because he knows where he has to be and when he has to, I think these are very subjective Qualities and can only be scouted through video.
What you want from a player who can do anything, you want a combination of both of above. You want a striker who knows how to defend as well as contribute effectively in the attack, Dominic Calvert Lewin is a pretty good example of this. His performances this season have been amazing, he has scored a lot of goals and is involved in build-up play and contributes in aerial play, he is the perfect example of the player you want.
I hope you like my work, please leave a response or criticism because it helps me grow or you can share if you like it.